Authentic Italian. Distinctly Salt Spring. Sempre delizioso!
Del Vecchio Pasta Fresca on Salt Spring Island marries traditional, Italian homestyle cooking with premium, local ingredients to create pasta, pizza and other delicious offerings unique to this corner of the world.
Eat-in, take-out or cook-at-home.
Housemade Pasta
Savour homemade sauces and fresh pasta made from traditional Italian recipes and the best local, organic ingredients. Squisito!
Gourmet Pizza
Treat yourself to homemade thin-crust or thick-crust pizzas—made with certified organic, non-GMO flour, organic tomato sauce, quality cheeses and a bounty of gourmet toppings. Divino!
Sandwiches, Salads, & Desserts
Enjoy our other delicious lunch and dessert specialties inspired by the same love and passion that go into all our offerings. Made with the finest Italian and local ingredients. Fantastica!
Cook at Home
Bring a taste of Italy into your own kitchen! Enjoy authentic pasta, homestyle sauces, desserts and oven-ready Italian dishes perfect for a quick lunch or special dinner. Buonissimo!
Catering
For your wedding or special event: Treat your guests to Chef Max's unique, Salt Spring take on traditional Italian dishes. Una Bella Mangiata!
I'm Max Del Vecchio, owner of Del Vecchio Pasta Fresca.
For over a decade, I've shared my passion for Italian food in my restaurant and storefront in the heart of downtown Salt Spring Island. As a chef and an artist, I make beautiful food that melds traditional recipes from my native Italy with the bounty of premium ingredients from local farmers and producers. The result is a delicious new Italian food tradition that's distinctly Salt Spring.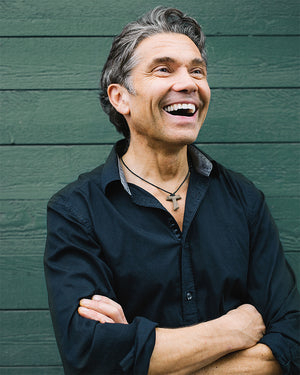 ★★★★★

Salt Spring Island has many wonderful features. When it comes to food sources, Pasta Fresca is a terrific asset to residents and visitors alike. Their pizza and pasta is truly wonderful - tasty and terrific products served by highly-skilled people who love their work in the heart of downtown Ganges. I love it!!!  Les Salt Spring Island
★★★★★

Best Italian eatery on the Southern Gulf Islands. Amazing fresh pasta and awesome pizza too.  Great friendly staff.  We have always been impressed with the food at Pasta Fresco. We highly recommend it to others.  Banana Joe & Wendy Salt Spring Island
★★★★★

The most authentic Italian food I have tasted outside of Italy. With fresh ingredients Chef Max is able to create a five star plate that will tantalize any palate. His Cannelloni is out of this world...absolutely magnificent!! Mary Vancouver Island 
★★★★★

Whether enjoying a meal on the restaurant patio or taking it home to enjoy, the sumptuous tastes and textures of Max's creations transport me back to memorable days in Italy. Catherine Quadra Island
★★★★★

Pasta Fresca has terrific products for gourmet Italian cooking. I purchase olive oil, fresh pasta and cheese on a regular basis. Max always provides knowledgeable and excellent service.  I highly recommend a visit to Pasta Fresca to purchase top shelf ingredients for your own culinary creations or a quick lunch while you're in town! Kellie Salt Spring Island
★★★★★

No matter how you look at it, Del Vecchio's fresh pasta is deliciously Italian and affordable. Sam Salt Spring Island
★★★★★

I would like to say the Lasagna is one of our favorite dishes prepared by Chef Max. It is the best Lasagna we've ever had and the most authentic, a real taste of old Italy. Julie and Rob Salt Spring Island
★★★★★

What an absolute treat to get lasagna or cannelloni from Chef Max!  The pasta absolutely melts in your mouth.  I especially love the lasagna sauce which is more of a rose sauce rather than an acidy tomato sauce.  Delicious!  Always look forward to getting an order of both items from Del Vecchio. Dianne Vancouver Island
★★★★★

The sauces are full of flavour. The pasta is perfectly cooked. We love his cannelloni, lasagna and sauces so much that we made a special trip to Saltspring from Parksville to buy them! Next time we must also try the pizza. It looked yummy. Well done Max and staff at Del Vecchio's!
Iona  Parksville, BC